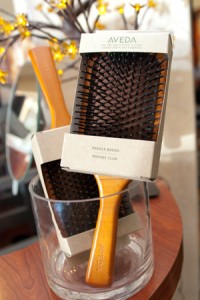 Ok. So your consultation with your hairdresser went great and your new hairstyle and color are both amazing. You purchased the shampoo and conditioner to maintain your  look and you have the styling products to style your hair out that fit you like a glove. You are ready to go…but wait…Did you make sure to get the right tools? What's the best hairbrush, best heat style tools and the best all-around hair care items?
Many of us have a great selection of brushes, combs, and maybe even a flatiron to help perfect our style, but often we overlook easy steps that can speed up the process for us. Where every style is a little different and will require variation in the final finishing process, if you have hair that requires smoothing or that last minute blast of volume at the top you will definitely need two types of brushes to help you along the way.
What you will need is a brush for detangling and another for the actual styling. A basic grooming brush will help to remove tangles, stimulate your scalp and enhance a natural shine to your hair; a second brush will work with the heat of the blow-dryer to shape the hair. Here is a breakdown of different brushes and their purpose to get you started. Remember, your stylist will recommend the best one for you and your individual needs.
Tip: The shape of the brush dictates how it's used.
Flat Cushion Brush: This brush is used to detangle and helps encourage shine by distributing essential scalp oils. The bristles can come in either boar bristles or a nylon-boar combination that are set in a flexible cushion base to contour your scalp. Boar bristles are designed to smooth the hair and make it shiny. This type of brush is a "feel-good" brush.
Vent Brush: This brush is great for adding volume to fine hair or setting wet hair into place if you want to allow your hair to naturally air dry. The bristles are best when they are ball-tipped and widely spaced apart to allow the air to vent through. I love this brush because it shortens the drying time and prevents excessive drying that may otherwise damage finer hair textures that are delicate.
Round Brush: This brush is best for recreating that perfect salon blow-out look. You can achieve a beautiful smooth look with volume coming from the scalp. These come in several different barrel sizes…I recommend buying the same size that your stylist uses as everyone is different.

Paddle Brush: This remarkable brush detangles, smoothes, counter-acts static electricity and straightens. Paddle brushes come with, boar bristles, boar-nylon combination or nylon. If you need shine use the boar bristles. If you have thicker hair try the combination bristles. For straightening I would recommend one with ball-tipped nylon bristles. ( If the round brush is difficult for you I would recommend this type.)
I use the AVEDA Wooden Paddle to massage my scalp in the morning and before I go to bed to stimulate my scalp and my natural oil production, which is essential in the Austin climate. I also use this brush on nearly every client in the salon because it works through a lot of hair with each stroke.