Tis the season for finding the perfect gifts for friends, family and the neighbor who takes in your mail. It's also a good time to suss out time-saving, style-enhancing goodies that help you keep your own look on point while rushing around from morning til night.
At Belle Salon & Spa we got you. Here is a mix of brand new and tried-and-true Aveda favorites that will check off all your boxes.
Gift Differently With Aveda Gift Sets

There are so many reasons to love Aveda gift sets, starting with the dollars and scents: they come in all price points! And not only will you be giving the gift of fabulous skin and gorgeous hair, you'll be giving environmentally-friendly products that are cruelty-free. (Aveda products aren't animal tested—ever.)
Each gift set is wrapped in lovely green holiday paper handcrafted by traditional papermakers in Nepal. Their partnership with Aveda means that 4,900 women earn an income making these Certified Wildlife-Friendly gift boxes. (To learn more about this amazing project, check out this video by Aveda.)
Gift of Great Style


Source: Aveda
This one's for your favorite girl on-the-go. It practically guarantees an ideal blowout with Thickening Tonic, Smooth Infusion Style-Prep Smoother, Damage Remedy Daily Hair Repair, and Air Control Light Hold Hair Spray.
Air Control
This tantalizing-smelling hairspray provides a light, flexible hold while keeping your hair soft and touchable.
Thickening Tonic
Thickening Tonic expands hair strands from root to tip for instantly thicker, fuller hair in one use. Just spray on damp hair, blow dry, style, and marvel at your voluminous mane.
Smooth Infusion Style-Prep Smoother
One of our go-to styling products for so many guests, this defends hair against humidity for up to 12 hours, protects against heat damage from styling tools, and creates a smooth surface for your hair.   
Damage Remedy Daily Hair Repair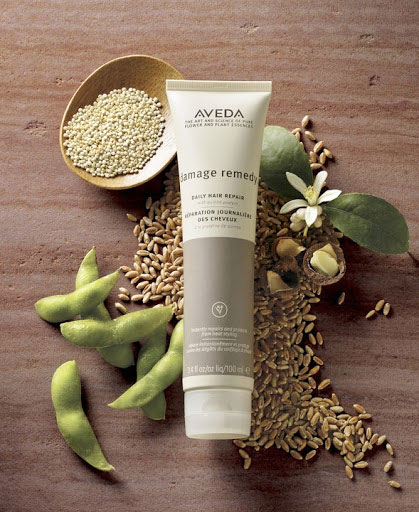 Source: Aveda
Between the blow-drying, flat ironing and curling, your hair probably feels a lot of heat. This leave-in treatment is formulated with quinoa protein and can actually reverse the damage (and protect it from future damage).
Gift of Invigoration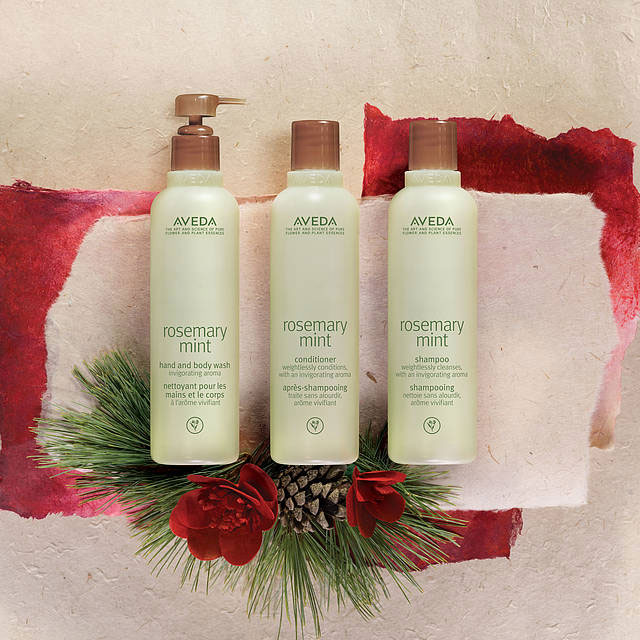 Source: Aveda
Awaken the mind, body and soul with the refreshing and exhilarating Rosemary Mint aroma. Rosemary has been proven to relieve stress and add mental clarity, while mint adds a calming effect.
Rosemary Mint Shampoo & Conditioner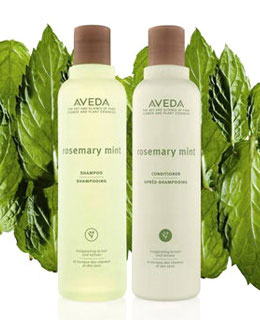 Source: Aveda
This mild shampoo-conditioner combo gently cleanses hair, adds body and shine, and awakens the senses with its energizing unisex scent.
Rosemary Mint Hand & Body Wash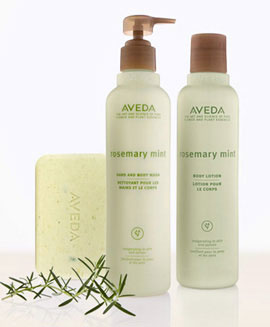 Source: Aveda
It cleans and balances your skin without drying, and leaves a lingering, minty scent so you feel refreshed long after you've dried off.
A Gift of Great Journeys For Him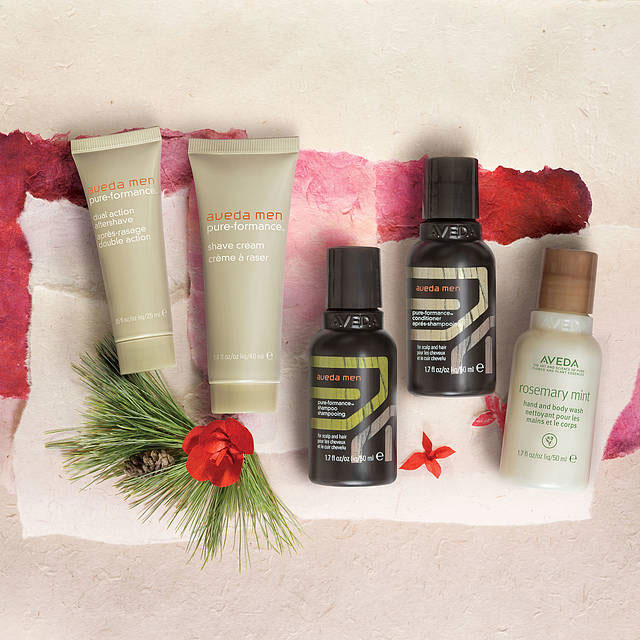 Source: Aveda
Complete with Rosemary Mint Hand & Body Wash and Aveda Men Pure-Formance Shampoo and Conditioner, Shave Cream and Dual Action Aftershave, this is the gift of calming confidence for him and has a fresh, clean, irresistible smell you'll both love.
Aveda Men Pure-Formance Shampoo & Conditioner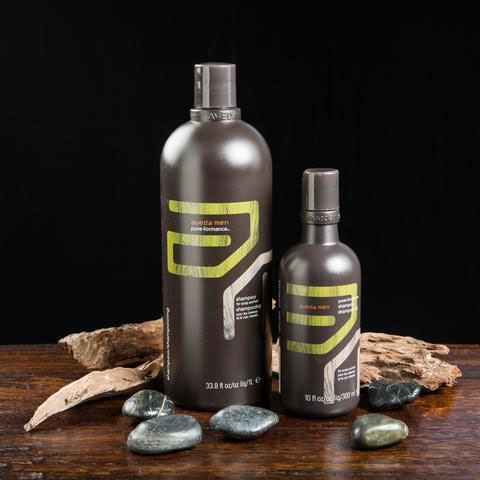 Source: Aveda
Proven to leave his scalp feeling healthier, Aveda Men Pure-Formance Shampoo and Conditioner work together to soothe and relieve while leaving hair shiny and smelling amazing.
Aveda Men Pure-Formance Shave Cream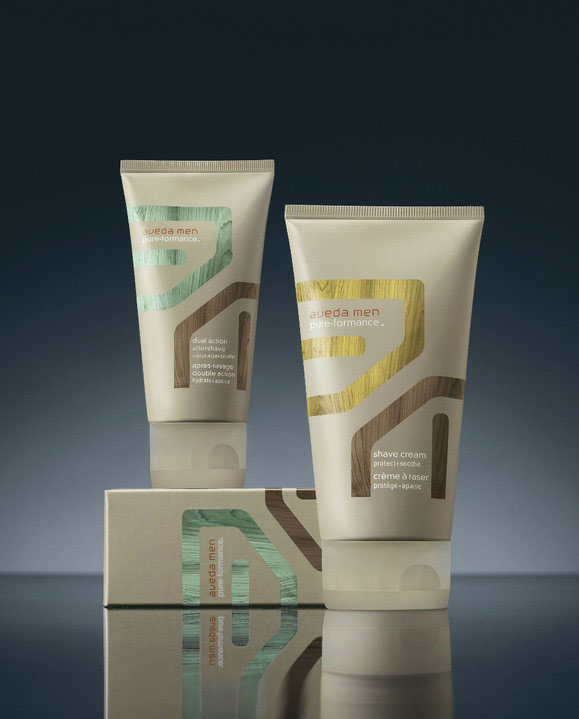 Source: Aveda
It contains Aveda's exclusive phyto-active blend with naturally-derived ingredients to soothe skin and prevent razor burn.
Aveda Men Pure-Formance Dual Action Aftershave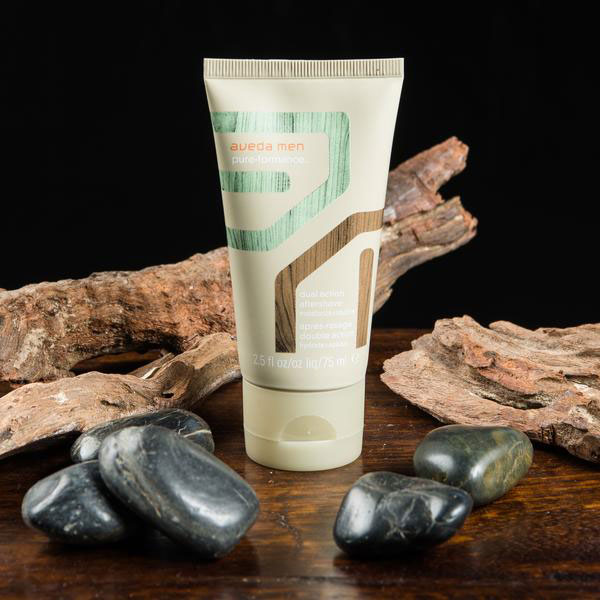 Source: Aveda
This 2-in-1 moisturizer and aftershave will shave minutes off his morning routine. It's formulated to calm skin, improve skin tone and texture, and help control excess oil.
A Gift of Comfort (a limited-time treat)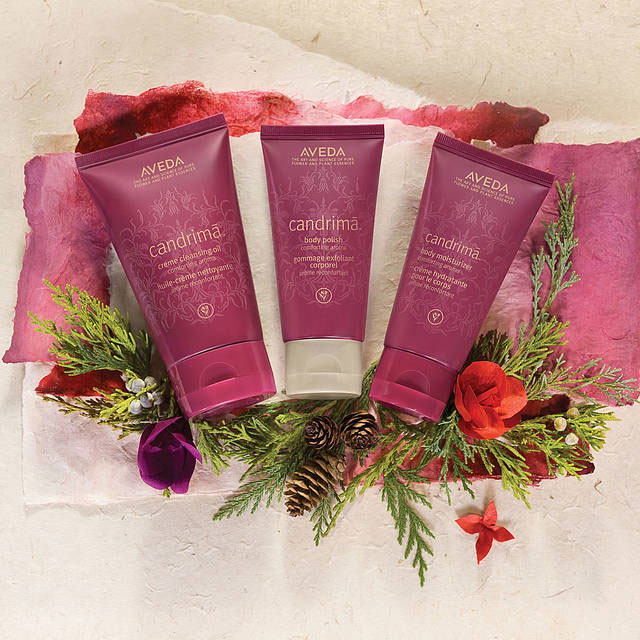 Source: Aveda 
Give pure relaxation and serenity with a Gift of Comfort. This gift set contains Aveda's limited edition Candrima Creme Cleansing Oil, Body Polish and Body Moisturizer. Candrima means "moonlight" in Sanskrit, and it's an appropriate name for the lily and moon-white blossoms that are among the ingredients. The limited-edition scent is also crafted from certified organic ginger and ginger lily and is warm, soothing and inviting.
Using organic sesame and coconut oils, the Creme Cleansing Oil gently cleanses and softens. The Body Polish smooths away dead surface cells and reveals fresh, new skin. The Body Moisturizer, made with organic shea butter and certified organic sesame and coconut oils, seals in moisture.
For a peek at more Aveda gift sets, click here!
Try Something New
Don't leave yourself off your list. Now is the perfect time to grab a treat for you. Here are two of our new faves:   
Texture Tonic
It's not hard to see why the beachy wave has practically become iconic. Create it in minutes on wet or dry hair with Aveda's Texture Tonic. This is similar to the salt sprays you're familiar with, but has a second important ingredient: certified organic sugarcane. The salt gives hair a piece-y, defined look, while the sugar provides touchable texture and shine.
Tulasara Renew Morning Creme
Inspired by the morning yoga ritual, Aveda's new Tulasara Renew Morning Creme brightens skin instantly. Using naturally-derived luminizers, it creates a radiant glow while licorice root and molasses reduce the appearance of dark spots over time. It smooths fine lines while visibly firming and lifting skin. Ginger, vitamin E and rice bran protect against environmental aggressors.
Finish 2017 strong—in both shopping and style. If you want to stop in, sniff and sample these products or others, come on into Belle Salon & Spa and get your Aveda on!