For Spring/Summer 20>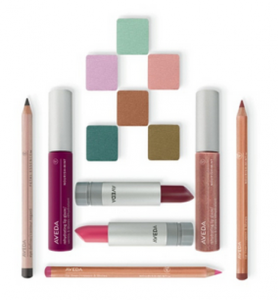 14, Aveda presents a Limited Edition Makeup Collection called Culture Clash: 13 lip and eye products in a collision of rich, earthy tones and delicate pastels.
Described as blending the "tribal and folkloric with the urban and futuristic", the colors and textures have been drawn from around the world by Aveda's Global Artistic Director of Makeup,  Janell Geason, and are designed to work well on all skin tones.
The products are: Nourish-Mint Smoothing Lip Color in Peruvian Lily, Nourish-Mint Rehydrating Lip Glaze in Rose Copper and Berry Bud, Nourish-Mint Sheer Mineral Lip Color in Sheer Muscadine, Nourish-Mint Lip Liner in Maple and Cactus Blossom, Petal Essence Eye Definer in Graphite, and Petal Essence Single Eye Colors in Peony Blush, Burnished Bronze, Olive Leaf, Aquamarine, New Lilac, and Seafoam.
Stop in for your complimentary make-up touch up or to purchase any of the Aveda products listed above.