With the official advent of spring, we're finally feeling emotionally stable enough to look back at the Spring 2015 runways for some fresh inspiration—of the hair variety. New additions to our wardrobe, after all, are much more exciting when we've accordingly adjusted our beauty game. Read on for three looks we've earmarked as some of S/S 2015's reigning trends.
LOOSE WAVES
We've heard this look called everything from "rich girl hair" to "Woodstock waves" to "model-off-duty strands." We're not sure what the official terminology is, but we sure do love it. This was easily one of the most prominent trends featured on the spring runways, and for good reason. Most commonly showcased with a center part, this relaxed version of the long-reigning beach waves has an easy elegance to it.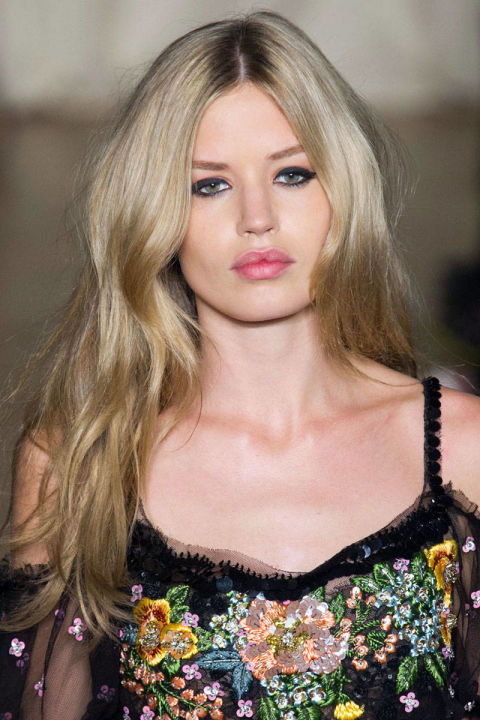 Why We Love It: This is like the hair version of the no-makeup look that seems to be dominating every other runway these days. It's simple and no-fuss but still imparts a sense of easy luxury to any look you pair it with it.
LONG PONYTAILS
 Models at Cushnie et Ochs, J Mendel, Oscar de la Renta, and more rocked a long, usually silky-straight ponytail. This look is uniform enough to mark as a trend, but customizable enough that you can really make it your own—we saw everything from high and sleek to breezily unkempt.
Our favorite version came from Guy Laroche, where hair was adorned with a simple-chic accessory.
Why We Love It: This look requires little effort, but instantly adds a touch of elegance to your outfit. Consider it the finishing touch you've been seeking for those days you just don't feel quite pulled-together enough.
WET LOOK
This one boldly took low-maintenance to the next level. Forget easy, air-dried texture or relaxed up-dos—why not just send the models out with freshly-washed hair? And we mean fresh, as in, no drying allowed. Seen at Maison Martin Margiela, Christopher Kane, Simone Rocha, Prada, and more, some iterations are actually wet, while others simply achieve the effect with a copious helping of hair gel. We picked Versace's as the most wearable.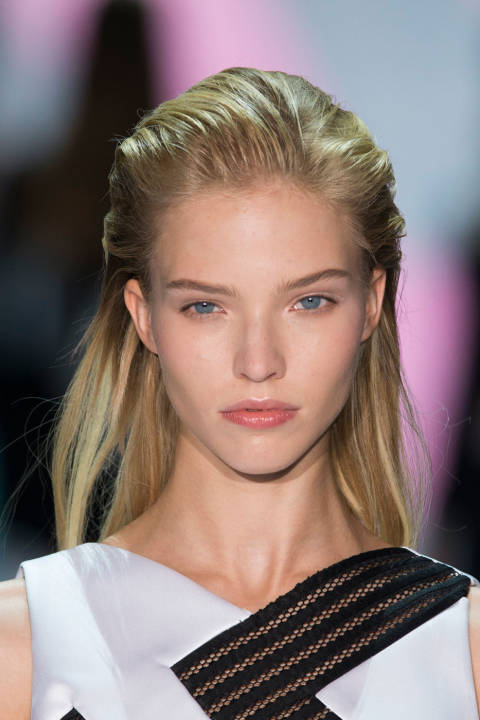 Why We Love It: While this look requires a certain sense of—shall we say, gumption—to rock in your daily life, we're pretty pleased that we can now tell ourselves we're simply on-trend on days when we get stuck in the rain or run out of time to blow-dry. Plus, we never turn our nose up at something that can arguably trace its roots back to Beyoncé.