Yeah yeah, we know.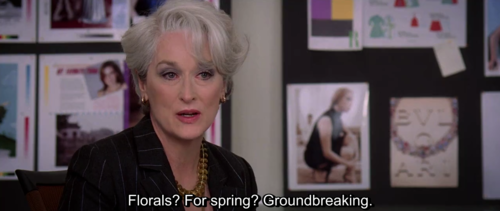 The wisdom of Miranda Priestly aside, you'd have to be a true ice queen to not appreciate the abundance of colorful blooms that sweeps into our lives each May. Accordingly, we've decided to round up a few of our favorite floral-inspired trends popping up this spring. What can we say—we'll always be the one counting the days until peony season and stopping to smell the jasmine.
Aveda Rare Bloom Makeup
 Setting eyes on Aveda's spring makeup collection for the first time was like waking up in Oz after a prolonged stay in Kansas. Naturally-derived products can sometimes fail to deliver in the pigment department. Historically, Aveda has cleared this hurdle with flying colors (pun intended), but they truly blew us away with the depth and variety in Rare Bloom, their newest collection for Spring/Summer 2015. Appropriately, the colors are inspired by fields of wildflowers.
The Rehydrating Lip Glaze in Fire Poppy ignited within us a passion for orange hues we didn't know existed. Nourish-Mint Smoothing Lip Color in Magenta Berry is the magenta lipstick for the masses. (We know you thought you couldn't pull it off. But just try this one—we promise you can.)And did you think purple eye shadow was passé? Think again, when you try out this smoky, shadowy, alluringly mysterious look courtesy of Petal Essence eye shadow in Plumeria.
Flower-Hued Hair
We know it's not for everyone, but we have to admit that as artists we have loved watching the pastel hair trend bloom. What began amongst celebrities with unrivaled beauty game (Nicole Richie, Kylie Jenner) is slowly becoming de rigeur in certain trend-setting circles, and in line with the season, the world is a more colorful place for it.
It's an ideal hair trend, because those who may not be open to an electric shade of pink may consider a ballet slipper hue that could easily masquerade as a rosily-lit platinum. It also lends itself well to a single well-placed strand, if that's more your style. Equally appealing are the ombré and highlight variations we're seeing more and more of. We're starry-eyed over the colors on our favorite pastel inspiration boards.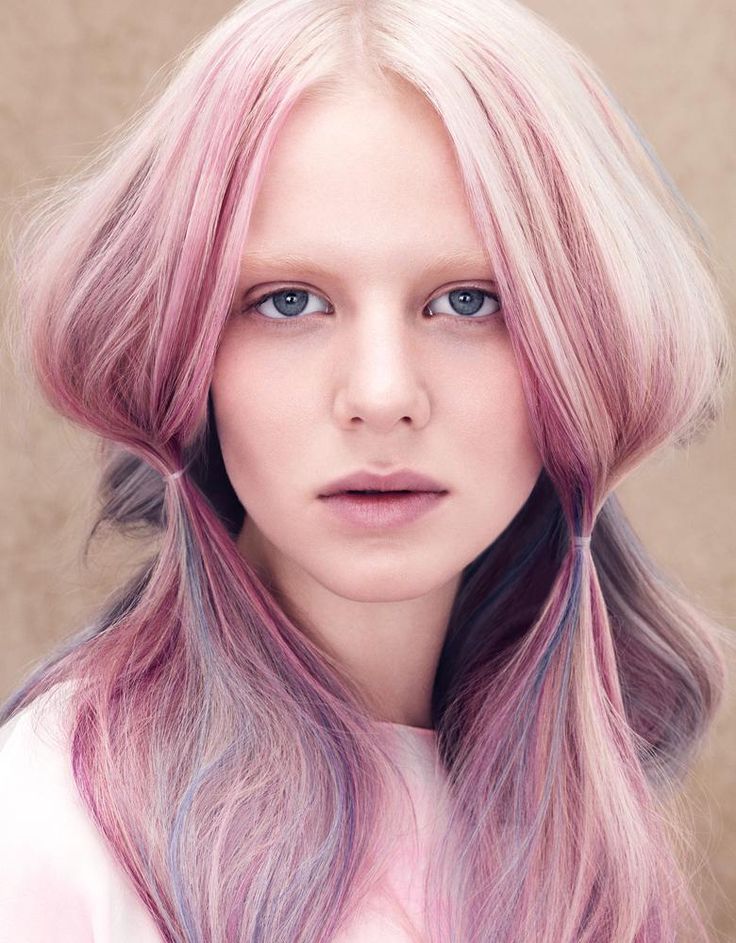 Reformation Florals
We'd be remiss if we didn't include actual floral clothing on this list. If you're not yet familiar with Reformation, the L.A.-based indie darling of the fashion world, allow us to introduce you. Fashion crowds across the country have fallen for their classic cuts and impeccable fit, and personally, we love their commitment to the environment and the fact that they manufacture in the U.S.
In keeping with its earth-friendly mission, Reformation pulls off a floral like nobody's business.
Dreamy numbers like this one are sure to leave you feeling contentedly sun-soaked on even the dreariest of days, and edgy details like the lace neck here keep things from feeling too precious.
And Flowers in Her Hair
The reign of the flower crown has ended, and not even Beyoncé rocking one at Coachella can convince us otherwise. (Check her shirt for our true feelings on the matter.) But that hardly means the world of hair accessories is about to become dull and lifeless.
Take your next cue from the Dolce & Gabbana Spring 2015 show, where models tucked a small cluster or single rose into a chignon. This Spanish-inspired look is timelessly elegant and one you'll still be happy to show off decades from now, long after you've stashed the photos of your cutoffs and crop tops somewhere your progeny will never discover them.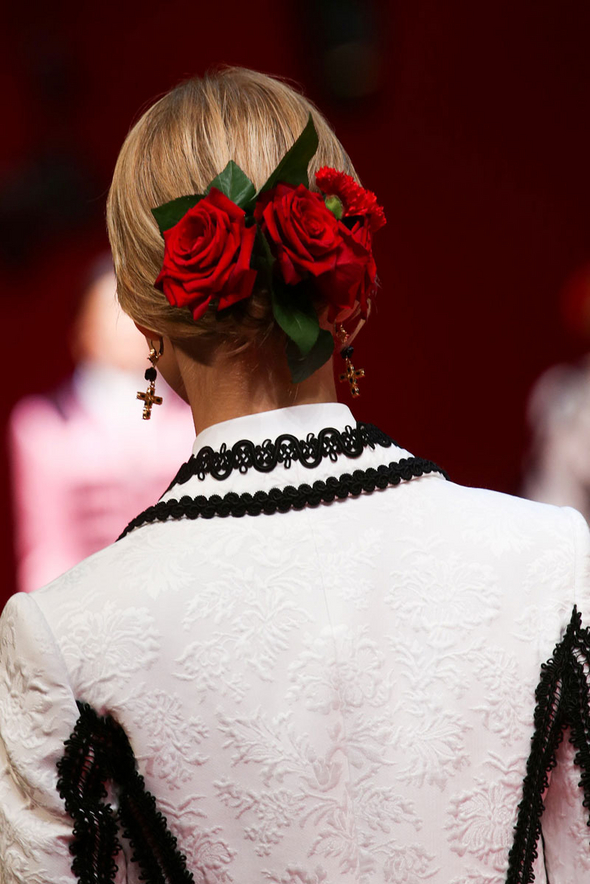 You could also go a completely different route and try out a floral silk turban or head scarf á la the Missoni Spring 2015 models. Bonus: Attracts trend-setters, not bees.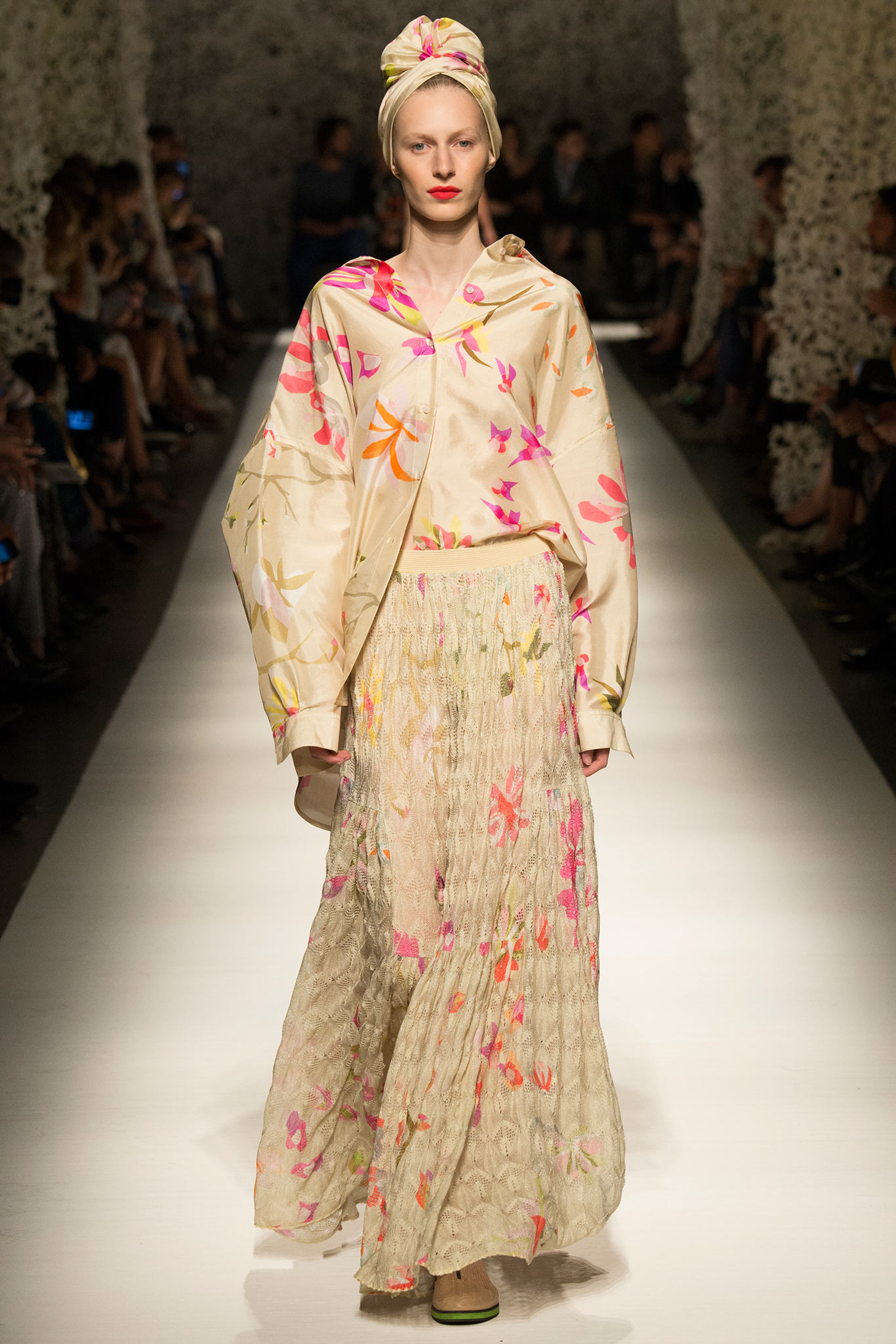 If you need any more persuading, just remember that flowers are literally groundbreaking. So there, Miranda.