There a lot of things we miss about being a kid—ice cream trucks, never having heard of taxes, and daily naps chief among them. But this time of year, what we miss most is the sense of possibility that came with the yearly back-to-school rush.
New beginnings come along less often in the world of adults—which means it's up to us to create them for ourselves. Below are our favorite beauty-oriented ways for doing just that. Remember the feeling of having a truly perfect First Day of School outfit? You're about to reclaim it.
SCHOOL SUPPLIES: OUT WITH THE OLD
Let's start where school always did, shall we? It's a lot easier to feel like you're turning a new page when clutter of the past isn't popping up all over it. It's practically a universal truth that all makeup bags, from time to time, begin to collect an unsightly array of waxy detritus that you don't want to so much as brush up against, never mind apply to your face. These items are all the same: broken eyeliner pencils, an orange lip gloss mistake, a hair tie that was once pale blue but has now taken on the unmistakable hue of aging foundation. Yeah, start by tossing that stuff.
Next, move on to the harder goodbyes. It's entirely likely that you've been hanging on to at least a few of your beauty favorites for far too long. All makeup comes with a shelf life, and the natural stuff goes faster than their synthetic counterparts. Fortunately, most Aveda formulations contain a number of essential oils with preservative properties. We also put together a cheat sheet (don't tell) to help you remember when to toss the old stuff. You're welcome.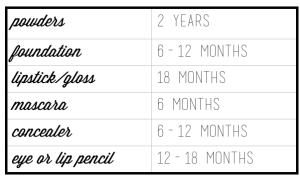 ART CLASS: HIGH-DEF COLOR 
There are things we miss about being a kid, sure, but adulthood also has its moments. Like, no one can say anything if you liven up your tresses with that subtle pop of pink you've always wanted. You never know—you + color could = a brand-new lease on life.
Not feeling the Technicolor? Make a hair update that skews a bit more conservative. "Bronde" is blowing up of late, and we're loving it. It's a transitional, low-key color that doesn't scream "big change." If you already have golden blonde or light brown hair, people will more likely be searching your face, trying to put their finger on why you look so radiant.
COMPUTER SCIENCE: HIT REFRESH ON YOUR BROWS
The current pro-brow craze means that legions of beauty lovers are embracing—and obsessing over—brow pencil. This makes sense, since filling in the brow enhances the structure and effect of your makeup look far more than those not yet in the know might suspect. If you haven't jumped on this train yet, we recommend you give it a go. And if you already have, why not take things a step further and try a brow tint?
Brow and lash tinting works best for those with fairer hair that's not too sparse. Come in for a consultation and we'll let you know if you're a good candidate—it could be just the fix you need to start fresh.
BIOLOGY: INTENSIVE HAIR THERAPY
There's no getting around it: Summer is not nice to your hair. Between the sunshine, the saltwater, and the chlorine, things are usually a dry, brittle mess by this time of year. Why not use the impending fall equinox as a reason to revitalize?
Kick things off with a laid-back color that doesn't require constant maintenance. (Balayage and ombre blew up for a reason, friends.) Invest in a quality deep conditioner—Aveda Damage Remedy Intensive Restructuring Treatment is always a great place to start. Its protein-packed formula helps rebuild your damaged hair, filling in damaged cuticles with much-needed amino acids. (And you thought you'd never use all that scientific knowledge again.)
RECESS: MASTER YOUR TRICKS
Maybe the magic of the back-to-school reset comes from soaking up new knowledge. In that case, why not learn something new? Settle down in front of your mirror and your laptop and commit to mastering a smoky eye once and for all.
Not an eye person? Tackle the bold lip. Red was back on the runways in a big way after seasons of nudes and clear glosses. Create an on-trend berry red by prepping lips with Aveda Nourish-Mint Lip Liner in Purple Sage and topping with Nourish-Mint Sheer Mineral Lip Color in Sheer Rhubarb, a shimmery plum. Or, channel the models at Marchesa and rock a full dark berry. We've been waiting out the warm weather by batting our eyelashes at Nourish-Mint Smoothing Lip Color in Blackberry, a wine-hued shade that makes your teeth look ten times brighter and you look ten times more inimitable.
Feeling excited yet? We certainly hope so. Now go pour yourself a glass of wine and remember that you'll never have to do homework again. Adulthood's not so bad, after all.